Straw, manure or chicken droppings are not a problem, but an opportunity.
Our plants are explicitly designed for this and have been running for 15 years!
Any existing plant can be converted to residuals.
Combined with a fermentation product treatment that suits the location.
fA biogas plant is more than just an energy producer.
Of course, it reduces the greenhouse gas pollution on our environment. Of course, it converts residues into methane, which can be used in many ways.
But it has an even deeper impact on the cycle concept.
Saving CO₂ & greenhouse gases
=
Organic & mineral fertilizers
=
Reuse water
=
Generate valuable energy
=
Sensible recycling of residual materials
=
As an important part of agriculture, the biogas plant provides nutrients for soil and plants.
With the right concept, residues are disposed of and both energy and fertilizer are produced.
The biogas plant in this video has been in operation since 2011, built according to the Rückert NatUrgas process:
In the horizontal digester with reel agitator.

STEP
Research was conducted on the utilization of straw-based energy pellets and poultry manure in biogas plants with heat-autonomous digestate upgrading by means of evaporation – funded by the BMWI.

KoSaTZ
Following the STEP research project, we want to focus even more on alternative feedstocks. Therefore, we are researching the treatment and combined use of straw and grain feedstock mixtures for a biogas technology chain with a future.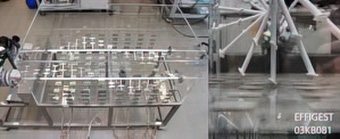 EFFIGEST
Development of a highly efficient process chain to increase the efficiency of fermentation of poultry manure using modified straw fractions and with process-integrated recovery of marketable fertilizer.