Biogas/biomethane pro­duc­tion
Dif­fi­cult sub­stra­tes such as straw and chi­cken manure
Fer­men­ta­ti­on pro­duct pre­pa­ra­ti­on – Dry­ing, eva­po­ra­ti­on, fertilizer
A biogas plant is more than an energy producer.
Of course, it reduces the greenhouse gas load on our environment. Of course, it converts residual materials into methane, which is extremely versatile.
But it has an even deeper impact on the cycle of life.

CO₂ & Treibhausgase einsparen
=

Organische & mineralische Dünger
=

Wasser wieder verwenden
=

Wertvolle Energie erzeugen
=
Reststoffe sinnvoll verwerten
=
As an important part of agriculture, biogas plants provide nutrients for soil and plants.
With the right concept, residues are disposed of and both energy and fertilizer are produced.
The biogas plant in this video has been in operation since 2011, built according to the Rückert NatUrgas process:
In the horizontal digester with reel agitator.

STEP
Rese­arch was con­duc­ted on the uti­liz­a­ti­on of straw-based ener­gy pel­lets and poul­try manu­re in bio­gas plants with heat-autonomous digesta­te upgrading by means of eva­po­ra­ti­on — fun­ded by the BMWI.

KoSaTZ
Fol­lowing the STEP rese­arch pro­ject, we want to focus even more on alter­na­ti­ve feed­stocks. The­re­fo­re, we are rese­ar­ching the tre­at­ment and com­bi­ned use of straw and grain feed­stock mix­tures for a bio­gas tech­no­lo­gy chain with a future.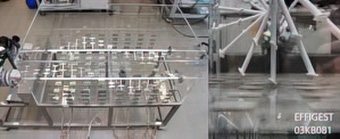 EFFIGEST
Deve­lo­p­ment of a high­ly effi­ci­ent pro­cess chain to incre­a­se the effi­ci­en­cy of fer­men­ta­ti­on of poul­try manu­re using modi­fied straw frac­tions and with process-integrated reco­very of mar­ket­a­ble fertilizer.